Laparoscopic Assisted Bladder Stone Removal
Stones in the urinary bladder is a common problem for both dogs and cats. Although some stones (struvite) may be dissolved with special dietary therapy, most stones require surgical removal. Stones may be large, small, singular or multiple. Techniques have been developed with the laparoscope to assist in removal of bladder stones so as to minimize incisional size and tissue manipulation and subsequently improve patient comfort and recovery.
For laparoscopic assisted bladder stone removal, a small (3-5) mm incision is made in the abdomen and a port is placed to allow introduction of the camera into the abdomen. Once the abdominal structures are identified a second incision is made over the urinary bladder. A second port is placed and the bladder is grasped and retracted to the edge of the incision. Temporary sutures are placed to hold the bladder in place and the bladder is incised. Depending on their size and number, stones can be removed by either grasping forceps, wire baskets, or suction techniques. Once the stones have been removed the camera can be introduced into the bladder to confirm complete removal of stones. The bladder and laparoscopic ports are then closed in a routine manner.

The laparoscopic assisted approach to stone removal results in much smaller incisions in both the body wall and the bladder as well as less tissue manipulation. Patients generally recover more quickly and are more comfortable after the laparoscopic assisted procedure. Exact incisional size varies depending on the size of the stones. As with all laparoscopic procedures, there is a chance that the procedure may need to be converted to an open or traditional surgery based on patient condition or circumstances
See our web page on minimally invasive surgery for general details on laparoscopy.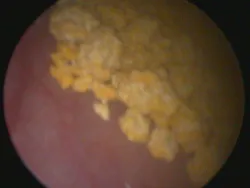 Calcium Oxalate Stones from a Dalmatian