Schedule your dog for a spa day with our groomer, Colleen Matthews!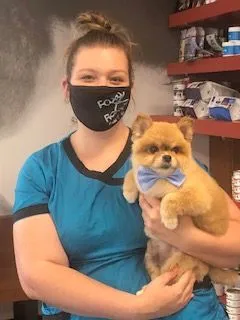 She has been bathing dogs since 2012 and has learned cleaning and drying techniques along with utilizing the proper products for different coat types to obtain her Brusher Bather Certificate. Colleen soon began assisting Master Groomers - one of whom was our very own for years - who trained her on how to perform the essential duties of pet grooming.
Just like Pikesville Animal Hospital, Colleen became Fear Free Certified and will handle your pets with the utmost care. She uses proper holding techniques to provide nail trims, ear plucking, brush and blow outs, and anal gland expressions. Our groomer is also skilled in hand-drying, body clips, de-matting, cutting the fur with clippers and scissors, and groin and paw pad shaving.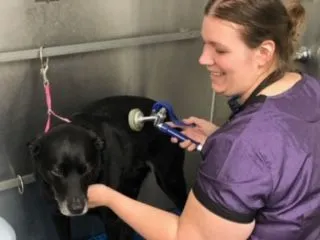 To schedule with Colleen, call into the hospital to be connected with the Grooming Department. Appointments are available Monday through Friday at a time specified by the groomer.
If you have a scheduled appointment with Colleen, please complete the electronic Grooming Authorization Form available here.